Report prepared by: Wendell Koning, MSc., P.Biol. Limnologist/ Water Quality Specialist, and Ken Stevenson, PhD. February 7, 2022. Prepared for: the Bighill Creek Preservation Society (BCPS). 14 pgs.
Water Quality Monitoring Activities, January 29-30, 2022
Introduction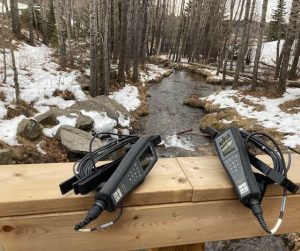 On Jan 29 and 30, 2022, supporters and members of the Bighill Creek Preservation Society (BCPS) carried out a limited water quality sampling program. Four sites were sampled as per described in Table 1 (also see photos, 1-18). In short, we sampled, from upstream (u/s) to downstream (d/s): Big Hill Springs (BH Springs); two sites in Bighill Creek (Bh Creek); and one site in Millennium Creek. Millennium Creek discharges into Bighill Creek just upstream of the Bighill Creek confluence with the Bow River.
The springs in Big Hill Springs Provincial Park have been rated as one of the top 4 in all of Canada, when compared to 62 mineral springs across Canada, as reported in a study funded by Parks Canada (Housekneckt 1984).
As well, Bighill Creek is recognized by the Government of Alberta (1997, 2001) as an "Environmentally Significant Area of Alberta".
Both the springs (nationally significant) and the creek (provincially significant) are therefore worthy of the attention, care and protection, that is the focus of the BCPS, a nonprofit society, and the work of the Society is therefore well-grounded, in science-based field monitoring initiatives. Field data, empirical data provides the background upon which wise sustainable environmental management decisions can be made by those in the province of Alberta who regulate such decisions.
Read more: Bighill Cr watershed, water quality report of Jan 29, 30 2022 (pdf)