Enrique Massot on May 28, 2016 — Leave a Comment
By Enrique Massot
The County News
A recently formed group of citizens wants to protect the health of a small creek that meanders through one of the most beautiful areas in Rocky View County's northwest quadrant.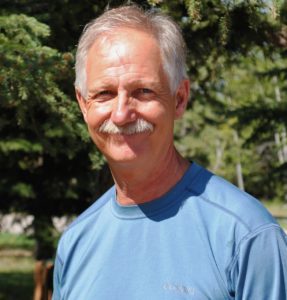 Gerry Bietz, president of the Bighill Creek Preservation Society, says ensuring the stream's natural and historic values preservation is the organization's main goal.
"This creek used to be full of cutthroat trout," he said. "Why this is no longer the case is one of the things we are going to look at."
From its headwaters at the divide between the Red Deer and the Bow River watersheds, Bighill Creek flows about 18 miles southwest across a deep and narrow valley, runs through Big Hill Springs Provincial Park, and enters the Town of Cochrane, where it joins the Bow River.
Once known as a healthy fishery, the creek was stocked with trout from 1929 to 1969, but a decline of the fishery occurred after those programs ended, worsened by drought and agricultural practices, noted Stream Tender Magazine.
The trend appeared to revert in recent years, noted Guy Woods, publisher of Stream Tender magazine.
"With years of higher precipitation and an increase in ground water tables, the creek has shown signs of a small recover in recent years."
Bietz said the group's first public event was held on May 7, sponsored by the Cochrane Environmental Action Committee, Cows and Fish and Trout Unlimited Canada.
About 40 Rocky View, Cochrane and Calgary residents heard presentations from University of Calgary's hydrology professor Masaki Hayashi and environmental biologist Sandi Riemersma.
"We focused on the importance of locally derived ground water in the maintenance of the ecosystems such as Bighill Creek and West Nose Creek," said Bietz. "We also talked about the role of beavers in shaping the area."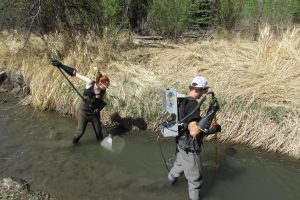 Trout Unlimited performing electrofishing.
In the afternoon, participants took a field trip onto the property of Mount St. Francis Retreat on Bighill Creek, were Cows and Fish representatives described the creek and the health of its banks. Trout Unlimited members demonstrated electro-fishing to capture and measure several species of fish.